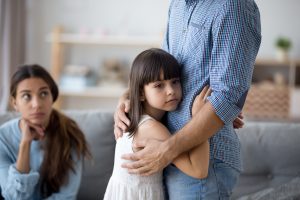 Following a divorce, a former spouse may choose to move to another state, whether to be closer to family or to start a new life. Children are often directly involved in this move.
In most cases, when one parent moves out of state, a court will grant more timesharing to one parent — rather than offering equal timesharing. In rare situations, parents agree to alternate school years and summer vacations, but this can be a complex system.
When your child lives primarily in another state, it can be difficult to be an active and involved parent. It can be even more difficult to co-parent with your former spouse.
Here are four tips that can help you co-parent across state lines:
Create a Unique and Mutually Beneficial Schedule
There are no hard and fast rules about the schedule you should have when you're co-parenting from different states. Sit down with your co-parent, or with a court, and prepare a schedule that makes sense for everyone involved.
For example, you might find that it is best for your child to visit you during the holiday break, rather than summer vacation. You might determine it is more convenient for you to travel to your child than for your child to travel to you. Whatever the case, make your schedule unique to your situation.
You could also agree to alter the schedule each year, depending on what you have learned during the previous year. Consider making an online calendar that can be shared with all parties involved to keep track of your scheduled time.
Make a Point to Contact Your Child
When your child lives in another state, there is a good chance you won't be able to visit as often as you would like. However, there are other methods of communication you can use to stay in frequent contact.
For example, you could make a point to call on Friday nights. Your child can tell you about their week, and you can show that you care, even when you are not with them. It is essential these phone calls include holidays, birthdays, and other special occasions.
Use Technology
There are many unique ways to stay up to date with your child, thanks to ever-evolving technological advancements. You could chat on Skype or share pictures on SnapChat.
You could also play family-friendly games together, like HayDay or Fishdom. These free phone applications can help bring a separated family together through shared lives, difficult levels, and a fun hobby.
There is also fast shipping through websites like Amazon. Make an effort to send your child thoughtful presents on a frequent basis.
Accept Frustration and Communicate
There will no doubt be frustration and anger in the coming years, particularly between you and your co-parent — someone you may come to resent because you lack so much time with your child.
When these moments come, remember that you are a parent. It is important to be level-headed and communicate openly with your former spouse. What is working? What is not working? What can be changed to make things better? It is easy to lay blame, but yet better to come up with solutions.
Contact an Experienced West Palm Beach Family Law Attorney for Representation
Are you having trouble co-parenting across state lines? You are not alone. For assistance and representation, contact our dedicated team at The Law Office of Eric C. Cheshire P.A. P.A. in West Palm Beach by calling (561) 677-8090.
Additional Reading: