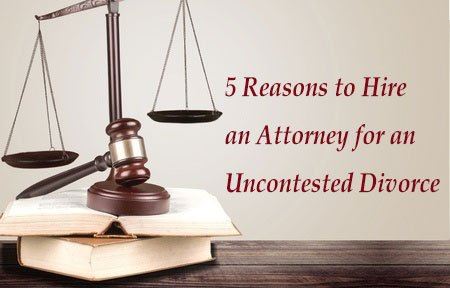 You and your soon-to-be ex-spouse have agreed to an uncontested divorce or a no-fault divorce. You've worked out suitable arrangements regarding your finances, your property and your children.
Do you still need to hire an attorney?
YES!  It's true that you do not need a lawyer for an uncontested divorce.  But even an amicable divorce involves complex legal matters that can have major consequences for you and your family.
There are several reasons to hire a divorce lawyer even for an uncontested divorce.
1.You'll Obtain Personalized Guidance
Every uncontested divorce is unique. Advice that is solid in one scenario may lead to disastrous results if applied inappropriately in a different situation. An experienced Florida divorce lawyer can help you navigate through this turbulent time by providing guidance and legal advice that is tailored to fit your particular situation.
2. You'll Receive Customized Paperwork
A lawyer will also handle all the necessary paperwork. Generic uncontested divorce forms are available, but filling them out properly can be difficult. These one-size-fits-all forms may not be able to accurately document the solutions that you and your spouse have reached. A divorce attorney can draft your documentation that clearly states your agreements in a manner that the judge issuing your divorce decree will find acceptable.
3. You'll Avoid Potential Pitfalls
Trying to untangle the financial knots that bind spouses takes finesse. The choices you make can have major consequences, and mistakes can wreak havoc with your credit even years after your divorce is finalized. Child custody arrangements can also be tricky; even the most well-intentioned agreement can cause conflict and hardship if it fails to protect the best interests of you and your children. A qualified divorce attorney can offer their familiarity with the court system and their experience in guiding clients through these pitfalls. An attorney can spot potential problems that others might miss. Their expertise can be invaluable in helping you avoid trouble both now and in the future.
4. You'll Get Your Divorce Done
In today's hectic world, everyone is always scrambling from one task to the next. Items that are not at the top of the priority list can easily be postponed or forgotten. Hiring a divorce attorney to represent you ensures that all the work necessary for your divorce will be completed in a timely fashion. You will have the peace of mind that comes from knowing that your lawyer is safeguarding your interests, handling the myriad details, and completing and filing any paperwork.
5. You'll Save Money
Although there is a fee to retain a divorce lawyer for an uncontested divorce, paying attorney's fees may very well save you money in the long run. Couples who try to handle their uncontested divorce without involving lawyers often make mistakes that are costly to fix. Damaged credit can be particularly expensive; it can limit your financial options and severely impact your future ability to secure loans for big-ticket purchases like a car or home. A divorce attorney can help you avoid these missteps, allowing you to put the past behind you and feel more confident about your financial future.  See ways to save money on attorney's fees.
Hiring a divorce lawyer to see you through your uncontested divorce offers invaluable protection and peace of mind. Aiding Florida residents with their legal issues since 1988, Cheshire Family Law has the knowledge, experience and sensitivity to guide you through your divorce proceedings. Contact us online or call us at (561) 677-8090 to learn more about our services and arrange a consultation.