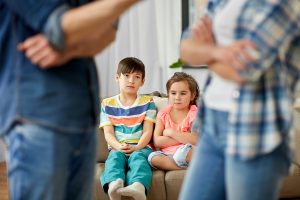 Dealing with an unreasonable co-parent can be frustrating and exhausting, especially when you have been through a recent divorce.
Fortunately, there are ways to help remedy the situation. Here are five tips you can use to help cope with an unreasonable co-parent:
Accept What You Cannot Change
There is nothing you can do to change your former spouse. The time has come to accept what you cannot change about them. Instead of looking at your former spouse as though he or she is intentionally trying to make you crazy, try looking at the situation from their perspective as well.
Is there something you can do to help this behavior improve? If not, is there a way you can alter your schedule to help avoid the drama?
Focus on Your Communication Style
Perhaps the most difficult part of co-parenting is having to regularly communicate with your former spouse. If you struggle to communicate with them in-person, try creating an online calendar or starting a text conversation when you need to discuss something.
These options can be far less confrontational and more productive for yourself, your co-parent and your child. A calendar, in particular, allows you to make plans and take notes without arguing over the details. There is no reason to argue, because everyone can see the schedule.
Do Not Involve Your Child
There are few things worse in co-parenting than when one co-parent involves their child in an argument with the other co-parent. If your co-parent is particularly unreasonable, you may assume that your child is getting an earful about you whenever they visit.
Even so, do not stoop to that level. Not only can it damage the way your child looks at their other parent, but it could lead to future resentment — and that is not good for anyone.
Set Reasonable Boundaries
Some co-parents keep a reasonable distance from each other, only interacting at shared birthday parties or during pick-up. Other co-parents do not know when to back off, which can lead to severe conflict.
If this is your situation, try to limit your co-parent's access to your life. Avoid talking outside of your child. Do not give details about your personal life, and do not allow yourself to get drawn into arguments.
Explore Other Options
If your co-parent continues to be unreasonable and refuses to cooperate with you, it might be time to revisit your custody agreement/Parenting Plan.
Do you have reason to believe your co-parent is manipulating your child? Is your co-parent as volatile with your child as with you? Are you worried about your co-parent being a flight risk? Do you believe your co-parent might stop making child support payments? 
All of these warning signs could be a cause for alarm. If you are unsure, meet with a skilled child custody attorney for assistance. A professional can help you understand your legal options and guide you through the process.
Call Our Experienced West Palm Beach Family Law Attorney for Help
We understand how frustrating it can be to raise your child with an unreasonable co-parent, especially when divorce is involved. For professional help, contact West Palm Beach child custody attorney Eric C. Cheshire at The Law Office of Eric C. Cheshire P.A. P.A. You can call our office at (561) 677-8090 or contact us online.
Additional Reading: